Last Spring I joined a virtual workshop led by David Owen Hastings, named: Inspired by art. As inspiration source, I chose the super detailed maps by graphic designer Thomas Ashley. The workshop was interesting and comprehensive, and it activated visions since its beginning: it started with a wonderful imagery that David shared from his countryside!
As a workshop exercise, I drafted a fuzzy section of a map on my design wall.
I recalled the awesome works of gorgeous map quilters such as Alicia Merret, Leah Evans and Niraja Lorenz and, with some doubts, I asked myself: why making one more map?
In a conversation after the workshop, David encouraged me: he was very kind, and the map idea found quiet settlement in some place of my mind.
During this Summer, the occasion to elaborate this subject topic came again, thanks to the game launched by Quilt Improv Studio, Pop improv challenge: I randomly started piecing some acid green fields. And suddenly, from my design wall, a message appeared so strong that I didn't dare to touch the pins and to adjust the vision. I found reply to my earlier question: "It depends on what you want to say with your map".
This is the story of my quilt made for the Pop Improv game. Its title is: "River gone green".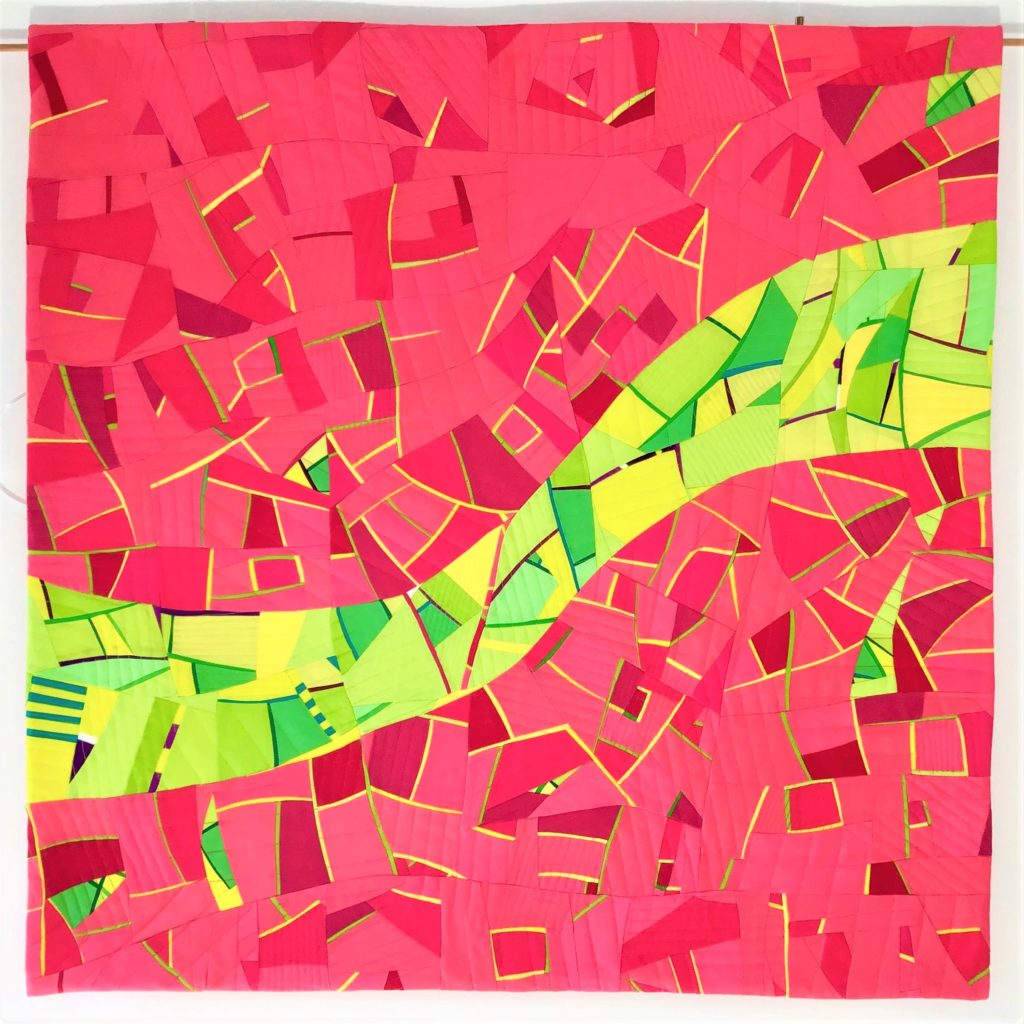 This Summer our family holidays found destination in Spain, to the ancient city of Valencia.
Valencia was founded as a Roman colony in 138 BC. Building site were the banks of the River Turia, alluvial silts accumulated on the floodplain formed in the lower course of the river, which were highly fertile.
Valencia today is one of the world's top rank global cities: a primary node in the global economic network. But centuries of development changed its relationship with Nature very deeply. Strong growth at the sides of its riverbanks found its limit on 14 October 1957, when the Great Flood of Valencia flooded large parts of the city of Valencia. As a reaction, Turia river was diverted and its coexistence with the citizens found an end. The old course of the river has been turned into a central green space for the city: a cultural attraction known as the Garden of the Turia, which I myself walked in, smitten by surprise.
Acid and saturated colors typical of Pop Art aesthetics, as requested by Quilt Improv Studio challenge, proved perfect to convey through my quilt the message of what happens when commodification of Nature hits an extreme, such as in the story of Turia river bed, not anymore filled with water, but now gone green. Like a glowing ghost of its former stream shape.
Today, awareness that rivers are continuously changing landscapes, which can't be frozen into a fixed narrow stream (as it happened to the vast majority of the rivers in the world), is well consolidated in the scientific community: leaving room for rivers to flow and flood is safer than building houses too close to riverbanks. The few remaining examples of rivers having a course that still preserves its natural features, such as my beloved Tagliamento river (the "king of the Alps" worth of getting Unesco tutelage), are studied and imitated during projects for restoring damaged river's health. Didn't you expect that honoring the wilderness of rivers would also make safer the communities around them?