Some months ago I went through a Facebook post that raised my curiosity.
It contained a light blue spot looking familiar to me.
I observed better: it was the story of a quilt gallery, held in Elba Island (the place where Napoleon reigned exiled in 1814). Just below the numbered text covering the picture, something real was playing hide and seek: a quilt of mine!
I didn't know that this quilt of mine was travelling.
It was created for the 2019 Abilmente fair in Vicenza: it contained a bit of indigo fabric, participating to a national quilt contest based on the use of such color.
I named it "Pond".
I allowed this quilt to be available for 15 months, potentially joining further events, but many quilting fairs were cancelled, several months have passed, and I forgot of its destiny.
The Facebook post brought "Pond" to my eyes again, since my quilting friend Ariella shared pictures of an unexpected initiative. Thanks to the post, I learnt of the exhibit arranged by Elba quilt guild, in collaboration with Quilt Italia, titled Patchwork as art to sew during times: "Pond" happened to become part of this event.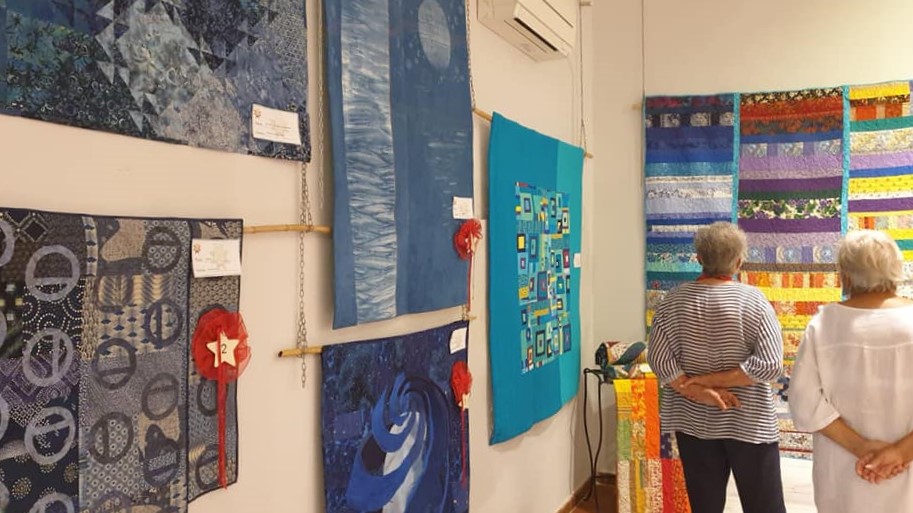 This was fascinating!
It suggested images of somebody's hands, taking care of your work among other pieces, bringing it in Portoferraio town, hanging it on the wall, and arranging a group exhibit, all of this like a surprise. The gallery contained works of quilters from Elba, and a section of the indigo contest pieces, thanks to the organization by Anna Diversi.
Such photos were the first ones I could see since Spring, referring to a quilt gallery becoming true.
It was the end of August 2020.
In that moment, I felt confident that I could arrange my exhibit too, within the end of Summer.
And the idea for Tagliamento, king of rivers started to take shape.