Last Autumn I discovered the extraordinary work of Leslie J. Riley. Her quilts, full of textures, secondary motifs, and swinging colours, suggested me the idea to make systematic exercises in textured piecing. I started preparing blocks with different texture types, such as: striped columns and rows, log cabins, high contrast colours, low contrast colours, and so on.
Last Winter I joined the local quilt guild "Biechi Mati", mainly focused on traditional patchwork, but open to trying any type of technique. According to their request, I carried my sample texture blocks, they put on the desk all their sewing machines, and we spent one afternoon playing with improv piecing together.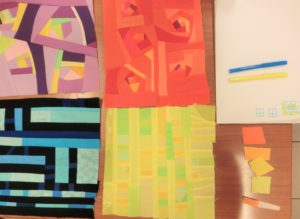 Last Spring it was planned to repeat the textured improv exercise at local quilt shop Patchworkvictim. Francesca made the Zoom platform available in order to keep the discussions on improv virtual and interactive. During the first session I have been sewing some pieces of the column and rows texture, and this sample is shown in the first video resumed at this page (visible also on Patchworkvictim you tube channel).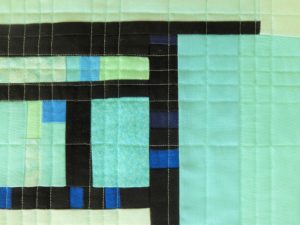 This Summer I took my textured samples out from the demo bag, and I decided to grow one of them wider. Now that I've finished the columns and rows quilt, I'm aware of how many people has influenced this year long work!