It was two months that I've been waiting for the "Quick Steps" live course by Irene Roderick to come. I was so impatient that I started to count the days remaining to the starting date!
I've now completed the attendance. The experience has been up to expectations.
Trying her methodology, named "dancing with the wall", meant for me to go out of comfort zone. I left behind, for a while, my usual boundaries (to repeat the same shape all around the quilt; to fix the position of figures by sewing blocks step by step). This resulted in an opening of possibilities, if not an exploding of variables!
This method clearly results in a continuous design exercise. Each change brings a surprise (which may be addictive…), each view suggests new ideas…
While doing my first try, I visualized: a sea, a gondola in Venice, a summer festival poster, a gun (no no no… I had to change this!), a horse looking a dog, a family crest, a paper collage, a Liberty style decor…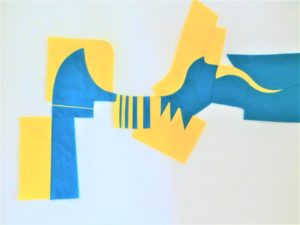 I experienced getting stuck, tearing it all down, restarting work from scratch. The brain was steaming for the effort of approaching multiple graphic problems: every time, a new balance was required…
After this "dance", I'll look to my way of working from a different perspective.